The long anticipated solicitations for the Alliant 2 Unrestricted and Alliant 2 Small Business government-wide acquisition contract (GWAC) dropped on June 24, 2016. Alliant 2 is expected to replace the original Alliant GWACs as the premier vehicle for information technology (IT) services and IT services-based solutions.
Proposals are due on August 29 and seemingly every firm that provides IT or related services is planning to respond, either alone or with teaming partners. And understandably so. With just under three years remaining for Alliant, nearly $33 billion in new contracts has been awarded across both vehicles. It's been used by 40 agencies to award contracts in 37 states. There are current Alliant task orders with options that would keep them active well into 2024.
It's difficult to overstate how important Alliant 2 is for IT sector companies. Having access to opportunities under Alliant 2, while not a guarantee of success in federal contracting, may be a baseline prerequisite for it.
So with this in mind, I want to encourage you to temper your expectations with regard to how quickly and smoothly this procurement process is going to proceed. This is going to be a slow, laborious process. There's a reason GSA is soliciting proposals for Alliant 2 now, when the existing Alliant vehicles can remain active until the middle of 2019. For some perspective, let's look back at the procurement process for Alliant.
GSA began planning for Alliant as far back as February 2004, when the first industry day took place. It would be another year and change before pre-solicitations were released in March and April of 2005 (for Alliant Small Business and Alliant Unrestricted, respectively). The RFP didn't come out for at least another year and a half. (Some time in early FY 2007?) A couple of response date extensions, a one-year plus proposal evaluation process, and several protests pushed out the official award date to early/mid 2009. Over two years from RFP to award!
Oh, and of course it was another four to six months after the award before the first task orders kicked off.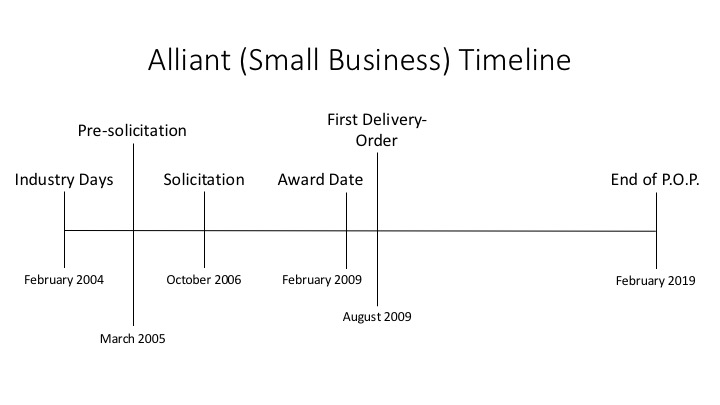 GSA is clearly preparing for a similar debacle this time around and interested vendors should do the same. You probably won't see returns on the business development investment in Alliant 2 for a longer period of time than you're willing to acknowledge. If your company already holds Alliant, you should be paying just as much attention to possible multi-year task orders you can get tee'd up now. If you're not already on Alliant or Alliant SB, it's probably just as important for you to start building teaming relationships with current vehicle-holders as it is to win your Alliant 2 bid.
Luckily, that's what GovTribe is here for. Check our our Radar tool to and learn how to identify the right Alliant teaming partner for you. Check our our vehicle summary pages for Alliant Unrestricted and Alliant Small Business and do your research. See the top performers, better understand how federal agencies are using it, identify recompete opportunities. And, of course, stay on top of updates for Alliant 2. Add the Unrestricted opportunity or the Small Business opportunity to your Pipeline and we'll send you real-time notifications within minutes of any updates. Don't miss last minute amendments, answers to vendor questions, response date changes, or anything else.
Not yet a GovTribe subscriber? Check out our 14 day free trial. Need some help getting started? We have introductory tutorial videos and walkthroughs on our help pages.