This week we discuss a few more data trends relating to first-time awardees between FY 2013 and FY 2015. We touched on this topic a couple of weeks back in another blog post. As a reminder, when we refer to "first-time awardees" we mean companies that have won their first government contract (as a prime contractor) in a given fiscal year.
First of all, it is important to note that first-time contracts have grown over the last few years despite the contraction of the overall market. This is a nice silver lining on recent trends in the government contracting space indicating that new, small firms still have opportunity despite the overall decrease in spending and total new contract awards overall.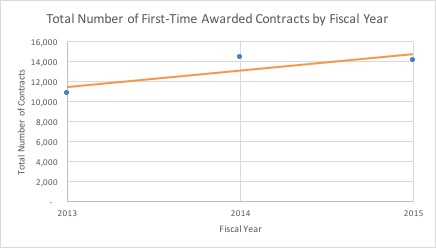 So that's good news, but the next logical question is what types of small businesses are successfully entering the market? And who's buying?
Answering the second question first, in FY 2013 and 2014 the Department of Veteran Affairs (DVA) had the highest number of awarded first-time contracts compared to other agencies (13% first-time awards in 2013 and 11% in 2014). The Department of the Interior (DOI) did the most first-time awards in FY 2015, awarding 11% of first-time contracts. It should be noted that the VA maintained roughly the same total number of first-time awardee contracts in FY 2015 (about 1,400), but several other agencies increased their output notably. Army, Navy, Department of Agriculture (USDA), and Interior all contributed to the overall growth of the first time award market during this three year period.
Now to answer the first question posed above – what kinds of companies are successfully entering the market – we can take a look at first time awards by NAICS Category. It looks like the soft services (i.e. professional/expert and consulting services) remain a good market for new entrants. The NAICS codes that represent this type of work made up about 10% of first-time contracts in FY 2014 and 2015. This includes firms doing research in the physical, engineering, and life sciences (NAICS code: 541712), administrative management and general management consulting (NAICS code: 541611), professional, scientific, and technical services (NAICS code: 541990), and other scientific and technical consulting (NAICS code: 541690). These categories obviously represent the more skilled, higher value services work the government procures, and average contract values for first time contracts tend to be in the $500K to $1 million-plus range. Definitely good news for the industry.
The other lucrative market segment for first time awardees is design/build, architect/engineer-related services. The NAICS codes for commercial and institutional building construction (NAICS code: 236220) was one of the largest for first time contracts in FY 2013 and engineering services (NAICS code: 541330) was used for a large number of new contracts in FY 2014 and 2015. The average contract size for first time contracts of this type tends to be in the low millions ($5-11 million).

So, major takeaways. Entering the government contracting industry is not easy. The bureaucracy is burdensome and the learning curve is steep. But the federal government does continue to prioritize bringing new companies into the space even during a period where the overall market has been contracting. Based on the last three fiscal years, professional consulting services and construction/engineering services continue to be the most frequent avenue into the market, and the VA, DOI, and DOD are good agencies to check out first.